KOMAND's Strategy Management Process
The strategy management process is the way in which companies decide which markets they want to compete in, how they plan on competing in those markets, what initiatives need to be accomplished to execute their competitive strategy and how they will measure progress and performance. All too often, companies view strategic planning as a one-off exercise that is carried out every few years to satisfy the board of directors or the executive leadership team. It's no surprise then that 80 to 90% of strategic plans are a huge flop with no incremental financial gains realized.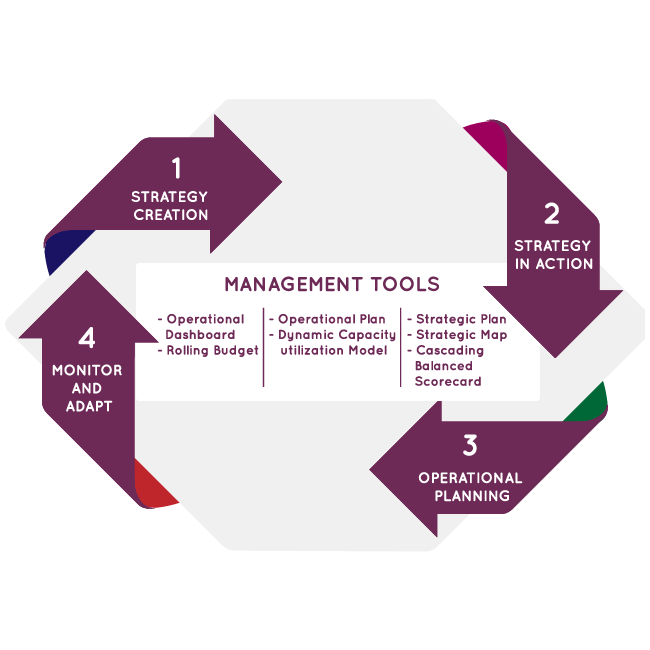 1
Before all else, your organization needs to have a clearly articulated strategy.
To help you get there, KOMAND provides the following services:
– Executive offsite facilitation and visioning
– Opportunity Scanning and Trends analysis
– Competitive benchmarking
– Market segment analysis
– Capabilities FinderTM
2
With a clear direction on where and how your company will compete in the marketplace, the strategic initiatives that will lead to success need to be developed, budgeted for and prioritized.
KOMAND can help you by providing services in:
– Corporate strategy
– Business unit strategy
– Business case analysis
– Balanced scorecard design
– Roadmap and implementation planning
3
Each strategic initiative previously identified has to be operationalized at the functional division level.
The key to success is an operational plan for each functional area of your organization.
KOMAND assists you with the following services:
– Functional strategy development
– Change management interventions
– Organizational design
– Activity based costing and management
– Operational and customer analytics
– Process improvement
– Financial and Operational modeling
4
With technology and production cycles continuously shortening, every organization needs to be nimble and ready to change their course rapidly.
KOMAND helps you stay on track by providing the following adaptive strategy services:
– Advanced analytics
– Customer profitability analysis
– Strategic causality and correlation analysis
As a statistically driven strategic planning firm, we've done our research on why there is such a high failure rate with strategic implementations. It turns out that the sophistication level of the strategy management process is a key driver – the more sophisticated the strategy management process, the better the results. So it's not a question of if your organization should adopt a systematic strategy management process but rather how  it should go about it.
At KOMAND, we have developed a detailed strategy management process that helps our clients make the optimal high-impact decisions and ensures employee engagement at all levels.